Sep 2, 2018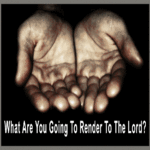 What Are You Going To Render To The Lord?
Psalm 116: 12-14 New King James Version (NKJV)
12 What shall I render to the Lord
For all His benefits toward me?
13 I will take up the cup of salvation,
And call upon the name of the Lord.
14 I will pay my vows to the Lord
Now in the presence of all His people.
Watch
Notes
Download
Date
Title
Sep 2, 2018

What Are You Going To Render To The Lord?

Sep 2, 2018

What Are You Going To Render To The Lord?

Psalm 116: 12-14 New King James Version (NKJV)

12 What shall I render to the Lord
For all His benefits toward me?
13 I will take up the cup of salvation,
And call upon the name of the Lord.
14 I will pay my vows to the Lord
Now in the presence of all His people.

Aug 20, 2018

"How Much Are You Willing To Do?"

Aug 20, 2018

"How Much Are You Willing To Do?"

""How Much Are You Willing To Do?"

Luke 9:23 (NKJV)

Then He said to them all, "If anyone desires to come after Me, let him deny himself, and take up his cross daily, and follow Me.

Aug 5, 2018

How important is going to heaven to you?

Aug 5, 2018

How important is going to heaven to you?

"How important is going to heaven to you?

Mark 10:17-22 NKJV

"Now as He was going out on the road, one came running, knelt before Him, and asked Him, "Good Teacher, what shall I do that I may inherit eternal life?" So Jesus said to him, "Why do you call Me good? No one is good but One, that is, God. You know the commandments: 'Do not commit adultery,' 'Do not murder,' 'Do not steal,' 'Do not bear false witness,' 'Do not defraud,' 'Honor your father and your mother.' " And he answered and said to Him, "Teacher, all these things I have kept from my youth." Then Jesus, looking at him, loved him, and said to him, "One thing you lack: Go your way, sell whatever you have and give to the poor, and you will have treasure in heaven; and come, take up the cross, and follow Me." But he was sad at this word, and went away sorrowful, for he had great possessions."

Jul 23, 2018

What's on your mind?

Jul 23, 2018

What's on your mind?

What's on your mind?

Philippians 4:1-9 NKJV

"Therefore, my beloved and longed-for brethren, my joy and crown, so stand fast in the Lord, beloved. I implore Euodia and I implore Syntyche to be of the same mind in the Lord. And I urge you also, true companion, help these women who labored with me in the gospel, with Clement also, and the rest of my fellow workers, whose names are in the Book of Life. Rejoice in the Lord always. Again I will say, rejoice! Let your gentleness be known to all men. The Lord is at hand. Be anxious for nothing, but in everything by prayer and supplication, with thanksgiving, let your requests be made known to God; and the peace of God, which surpasses all understanding, will guard your hearts and minds through Christ Jesus. Finally, brethren, whatever things are true, whatever things are noble, whatever things are just, whatever things are pure, whatever things are lovely, whatever things are of good report, if there is any virtue and if there is anything praiseworthy—meditate on these things. The things which you learned and received and heard and saw in me, these do, and the God of peace will be with you."

Jul 8, 2018

You Better Watch Your Mouth!

Jul 8, 2018

You Better Watch Your Mouth!

You Better Watch Your Mouth!

James 3 (NKJV)

3 My brethren, let not many of you become teachers, knowing that we shall receive a stricter judgment. 2 For we all stumble in many things. If anyone does not stumble in word, he is a [a]perfect man, able also to bridle the whole body. 3 [b]Indeed, we put bits in horses' mouths that they may obey us, and we turn their whole body. 4 Look also at ships: although they are so large and are driven by fierce winds, they are turned by a very small rudder wherever the pilot desires. 5 Even so the tongue is a little member and boasts great things.

See how great a forest a little fire kindles! 6 And the tongue is a fire, a world of [c]iniquity. The tongue is so set among our members that it defiles the whole body, and sets on fire the course of [d]nature; and it is set on fire by [e]hell. 7 For every kind of beast and bird, of reptile and creature of the sea, is tamed and has been tamed by mankind. 8 But no man can tame the tongue. It is an unruly evil, full of deadly poison. 9 With it we bless our God and Father, and with it we curse men, who have been made in the [f]similitude of God. 10 Out of the same mouth proceed blessing and cursing. My brethren, these things ought not to be so. 11 Does a spring send forth fresh water and bitter from the same opening? 12 Can a fig tree, my brethren, bear olives, or a grapevine bear figs? [g]Thus no spring yields both salt water and fresh.

Jul 1, 2018

What Is Causing The Storm In Your Life?

Jul 1, 2018

What Is Causing The Storm In Your Life?

Jonah 1:1-17 NKJV

"Now the word of the LORD came to Jonah the son of Amittai, saying, "Arise, go to Nineveh, that great city, and cry out against it; for their wickedness has come up before Me." But Jonah arose to flee to Tarshish from the presence of the LORD. He went down to Joppa, and found a ship going to Tarshish; so he paid the fare, and went down into it, to go with them to Tarshish from the presence of the LORD. But the LORD sent out a great wind on the sea, and there was a mighty tempest on the sea, so that the ship was about to be broken up. Then the mariners were afraid; and every man cried out to his god, and threw the cargo that was in the ship into the sea, to lighten the load. But Jonah had gone down into the lowest parts of the ship, had lain down, and was fast asleep. So the captain came to him, and said to him, "What do you mean, sleeper? Arise, call on your God; perhaps your God will consider us, so that we may not perish."And they said to one another, "Come, let us cast lots, that we may know for whose cause this trouble has come upon us." So they cast lots, and the lot fell on Jonah. Then they said to him, "Please tell us! For whose cause is this trouble upon us? What is your occupation? And where do you come from? What is your country? And of what people are you?" So he said to them, "I am a Hebrew; and I fear the LORD, the God of heaven, who made the sea and the dry land. " Then the men were exceedingly afraid, and said to him, "Why have you done this?" For the men knew that he fled from the presence of the LORD, because he had told them. Then they said to him, "What shall we do to you that the sea may be calm for us?"—for the sea was growing more tempestuous. And he said to them, "Pick me up and throw me into the sea; then the sea will become calm for you. For I know that this great tempest is because of me." Nevertheless the men rowed hard to return to land, but they could not, for the sea continued to grow more tempestuous against them. Therefore they cried out to the LORD and said, "We pray, O LORD, please do not let us perish for this man's life, and do not charge us with innocent blood; for You, O LORD, have done as it pleased You." So they picked up Jonah and threw him into the sea, and the sea ceased from its raging. Then the men feared the LORD exceedingly, and offered a sacrifice to the LORD and took vows. Now the LORD had prepared a great fish to swallow Jonah. And Jonah was in the belly of the fish three days and three nights."

Jun 24, 2018

Jesus Stop The Bleeding!

Jun 24, 2018

Jesus Stop The Bleeding!

"Jesus Stop The Bleeding!"

Mark 5:25-28 (NKJV)

25 Now a certain woman had a flow of blood for twelve years, 26 and had suffered many things from many physicians. She had spent all that she had and was no better, but rather grew worse. 27 When she heard about Jesus, she came behind Him in the crowd and touched His garment. 28 For she said, "If only I may touch His clothes, I shall be made well."

Jun 17, 2018

If I Could Do It All Over Again!

Jun 17, 2018

If I Could Do It All Over Again!

"If I Could Do It All Over Again!"

Luke 16:19-31 NKJV

""There was a certain rich man who was clothed in purple and fine linen and fared sumptuously every day. But there was a certain beggar named Lazarus, full of sores, who was laid at his gate, desiring to be fed with the crumbs which fell from the rich man's table. Moreover the dogs came and licked his sores. So it was that the beggar died, and was carried by the angels to Abraham's bosom. The rich man also died and was buried. And being in torments in Hades, he lifted up his eyes and saw Abraham afar off, and Lazarus in his bosom. "Then he cried and said, 'Father Abraham, have mercy on me, and send Lazarus that he may dip the tip of his finger in water and cool my tongue; for I am tormented in this flame.' But Abraham said, 'Son, remember that in your lifetime you received your good things, and likewise Lazarus evil things; but now he is comforted and you are tormented. And besides all this, between us and you there is a great gulf fixed, so that those who want to pass from here to you cannot, nor can those from there pass to us.' "Then he said, 'I beg you therefore, father, that you would send him to my father's house, for I have five brothers, that he may testify to them, lest they also come to this place of torment.' Abraham said to him, 'They have Moses and the prophets; let them hear them.' And he said, 'No, father Abraham; but if one goes to them from the dead, they will repent.' But he said to him, 'If they do not hear Moses and the prophets, neither will they be persuaded though one rise from the dead.' ""

Jun 5, 2018

Stay Focused!

Jun 5, 2018

Stay Focused!

"Stay Focused!"

Judges 16:4-22 NKJV

"Afterward it happened that he loved a woman in the Valley of Sorek, whose name was Delilah. And the lords of the Philistines came up to her and said to her, "Entice him, and find out where his great strength lies, and by what means we may overpower him, that we may bind him to afflict him; and every one of us will give you eleven hundred pieces of silver." So Delilah said to Samson, "Please tell me where your great strength lies, and with what you may be bound to afflict you." And Samson said to her, "If they bind me with seven fresh bowstrings, not yet dried, then I shall become weak, and be like any other man." So the lords of the Philistines brought up to her seven fresh bowstrings, not yet dried, and she bound him with them. Now men were lying in wait, staying with her in the room. And she said to him, "The Philistines are upon you, Samson!" But he broke the bowstrings as a strand of yarn breaks when it touches fire. So the secret of his strength was not known. Then Delilah said to Samson, "Look, you have mocked me and told me lies. Now, please tell me what you may be bound with." So he said to her, "If they bind me securely with new ropes that have never been used, then I shall become weak, and be like any other man." Therefore Delilah took new ropes and bound him with them, and said to him, "The Philistines are upon you, Samson!" And men were lying in wait, staying in the room. But he broke them off his arms like a thread. Delilah said to Samson, "Until now you have mocked me and told me lies. Tell me what you may be bound with." And he said to her, "If you weave the seven locks of my head into the web of the loom"— So she wove it tightly with the batten of the loom, and said to him, "The Philistines are upon you, Samson!" But he awoke from his sleep, and pulled out the batten and the web from the loom. Then she said to him, "How can you say, 'I love you,' when your heart is not with me? You have mocked me these three times, and have not told me where your great strength lies. " And it came to pass, when she pestered him daily with her words and pressed him, so that his soul was vexed to death, that he told her all his heart, and said to her, "No razor has ever come upon my head, for I have been a Nazirite to God from my mother's womb. If I am shaven, then my strength will leave me, and I shall become weak, and be like any other man." When Delilah saw that he had told her all his heart, she sent and called for the lords of the Philistines, saying, "Come up once more, for he has told me all his heart." So the lords of the Philistines came up to her and brought the money in their hand. Then she lulled him to sleep on her knees, and called for a man and had him shave off the seven locks of his head. Then she began to torment him, and his strength left him. And she said, "The Philistines are upon you, Samson!" So he awoke from his sleep, and said, "I will go out as before, at other times, and shake myself free!" But he did not know that the LORD had departed from him. Then the Philistines took him and put out his eyes, and brought him down to Gaza. They bound him with bronze fetters, and he became a grinder in the prison. However, the hair of his head began to grow again after it had been shaven."

May 22, 2018

Stop Gazing and Move Forward!

May 22, 2018

Stop Gazing and Move Forward!

"Stop Gazing and Move Forward!"

Acts 1:4-11 NKJV

"And being assembled together with them, He commanded them not to depart from Jerusalem, but to wait for the Promise of the Father, "which," He said, "you have heard from Me; for John truly baptized with water, but you shall be baptized with the Holy Spirit not many days from now." Therefore, when they had come together, they asked Him, saying, "Lord, will You at this time restore the kingdom to Israel?" And He said to them, "It is not for you to know times or seasons which the Father has put in His own authority. But you shall receive power when the Holy Spirit has come upon you; and you shall be witnesses to Me in Jerusalem, and in all Judea and Samaria, and to the end of the earth." Now when He had spoken these things, while they watched, He was taken up, and a cloud received Him out of their sight. And while they looked steadfastly toward heaven as He went up, behold, two men stood by them in white apparel, who also said, "Men of Galilee, why do you stand gazing up into heaven? This same Jesus, who was taken up from you into heaven, will so come in like manner as you saw Him go into heaven.""